We are a Warm and Welcoming Conservative Congregation In Pepper Pike, Ohio
Colliding Dreams with Joe Dorman and Oren Rudavsky
Sunday, August 9, 2020
•
19 Av 5780
7:00 PM - 9:00 PM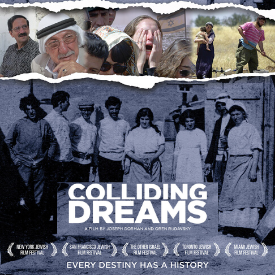 View this feature length documentary at your convenience HERE and then join us for an earnest discussion on one of today's most explosive issues – the question of Zionism and the Israeli-Palestinian conflict. Zoom, Meeting ID: 95311085582. Contact the synagogue office for the passwords to the film and discussion. View the film trailer here.
The film is a searching and dramatic exploration of the dream of a Jewish state and its impact on both Jews and Arabs, unfolding across the broad canvas of 150 years of history from 19th century Europe to the modern Middle East. Told through the remarkable lives and voices of Jews and Palestinians living in the Middle East today, Colliding Dreams weaves together past and present, ideas and passions, wars and peace talks, brilliant minds with the voices of ordinary citizens to develop a film portrait of sensitivity and depth like none before of the story of Zionism and its controversies.
This program is made possible through the generosity of the Dobres-Berkowitz Israel Programming Fund.
Joseph Dorman is the brother of our member, Rebekah Dorman.
Share Print Save To My Calendar
Tue, September 29 2020 11 Tishrei 5781