We are a Warm and Welcoming Conservative Congregation In Pepper Pike, Ohio
We are a Warm and Welcoming Conservative Congregation In Pepper Pike, Ohio
Tzedek Committee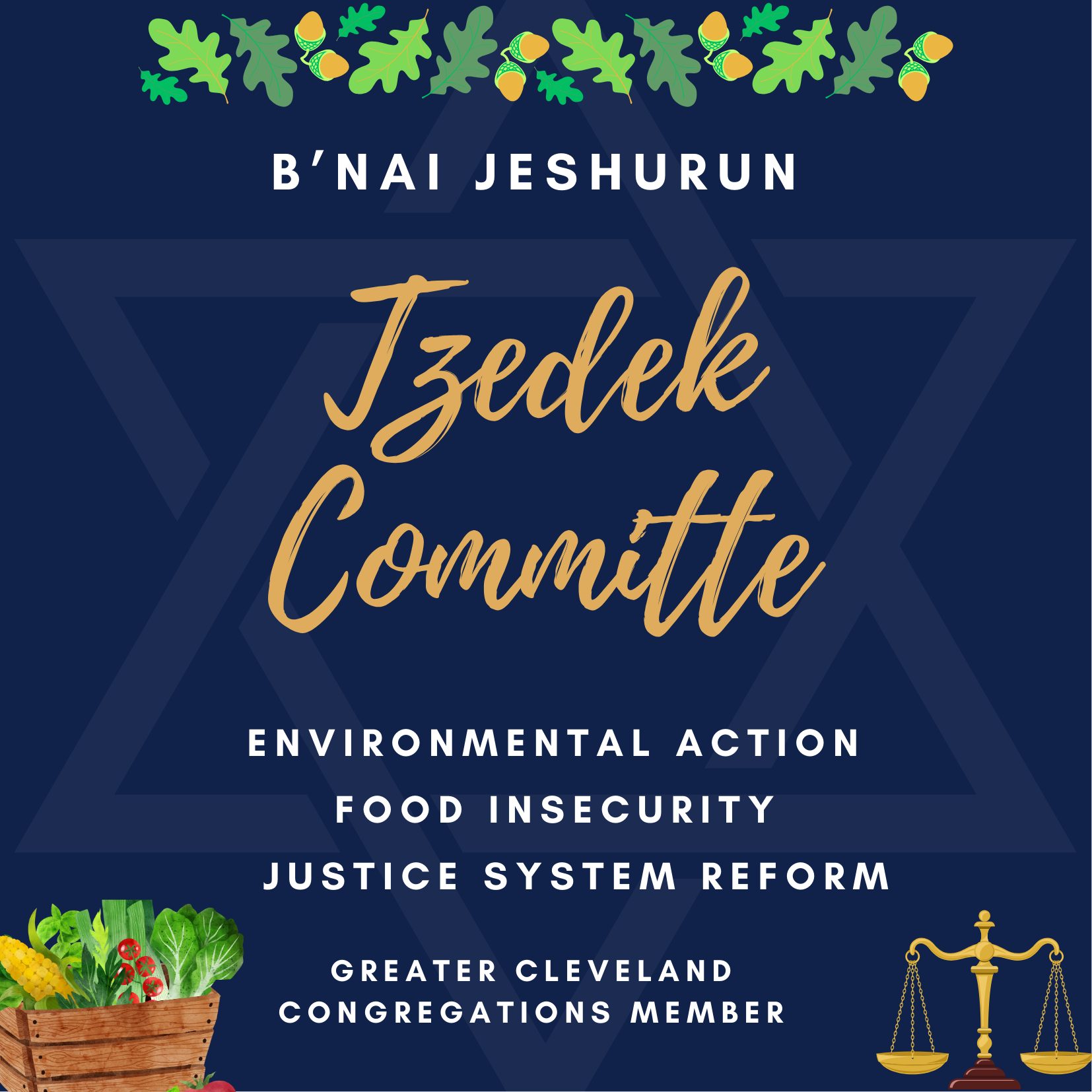 The Tzedek Committee works with Greater Cleveland Congregations, a non-partisan coalition of faith-based communities and neighborhood organizations from across Cuyahoga County. The purpose is to work together across divides of race, class, and religion to promote civic actions that improve the quality of life for everyone in Greater Cleveland. This committee also participates in social justice activities and actions, beyond the work of GCC, that are of particular interest and relevance to B'nai Jeshurun and committee members. Currently we have four teams: Youth Bindover, Pre-Trial Services, Environmental Action, and Food Insecurity. For more information, or to get involved, contact Deby Auerbach-Brown, Committee Chair.
Environmental Action Team Meeting, Monday, November 6, 2023 • 22 Heshvan 5784 7:00 PM - 8:00 PM Zoom
This meeting we will have an update on the composting program, as well as discussion about recycling, an energy audit, and Tu B'Shevat All are welcome. Any questions may be directed to Laura Vexler (lvexler@me.com) or Deby Auerbach-Brown (cabdab4@sbcglobal.net).
Zoom link:
https://us06web.zoom.us/j/84691365578?pwd=OUFqkWCQ4RfnZaNQsaO7aNVbowcf3
Sun, December 10 2023
27 Kislev 5784
Upcoming Events
All Events
Sunday

,

Dec

December

10

,

2023

Spread the Light for Israel: Congregational Hanukkah Program


Sunday, Dec 10th

5:30p

to

8:00p




Monday

,

Dec

December

11

,

2023

What's NU: Hanukkah Edition? with Rabbi Hal Rudin-Luria


Monday, Dec 11th

12:00p

to

1:00p




Monday

,

Dec

December

11

,

2023

Makom goes to Whirlyball


Monday, Dec 11th

6:30p

to

9:00p




Tuesday

,

Dec

December

12

,

2023

Sisterhood Lunch and Learn


Tuesday, Dec 12th

12:00p

to

1:00p




Tuesday

,

Dec

December

12

,

2023

Food Insecurity Meeting


Tuesday, Dec 12th

7:00p

to

9:00p



Sun, December 10 2023 27 Kislev 5784